Norway was already in the firm lead after first round, with Poland second and Germany third. Slovenia was fourth only one point behind the podium. At the end, Slovenian team finished four points ahead of Poland's Piotr Zyla, Stefan Hula, Dawid Kubacki and Kamil Stoch.
This was Norway's third win in a row here in Planica. But it was Kamil Stoch of Poland who had the longest jump of the day with 248.5 meters in the first round. Robert Kranjec had the longest jump on the Slovenian team, 239,5 meters at the pleasure of 20.000 enthusiastic fans in the valley below the Ponce mountains. In the final round he added 151.2 points to the tally with the jump of 226 m.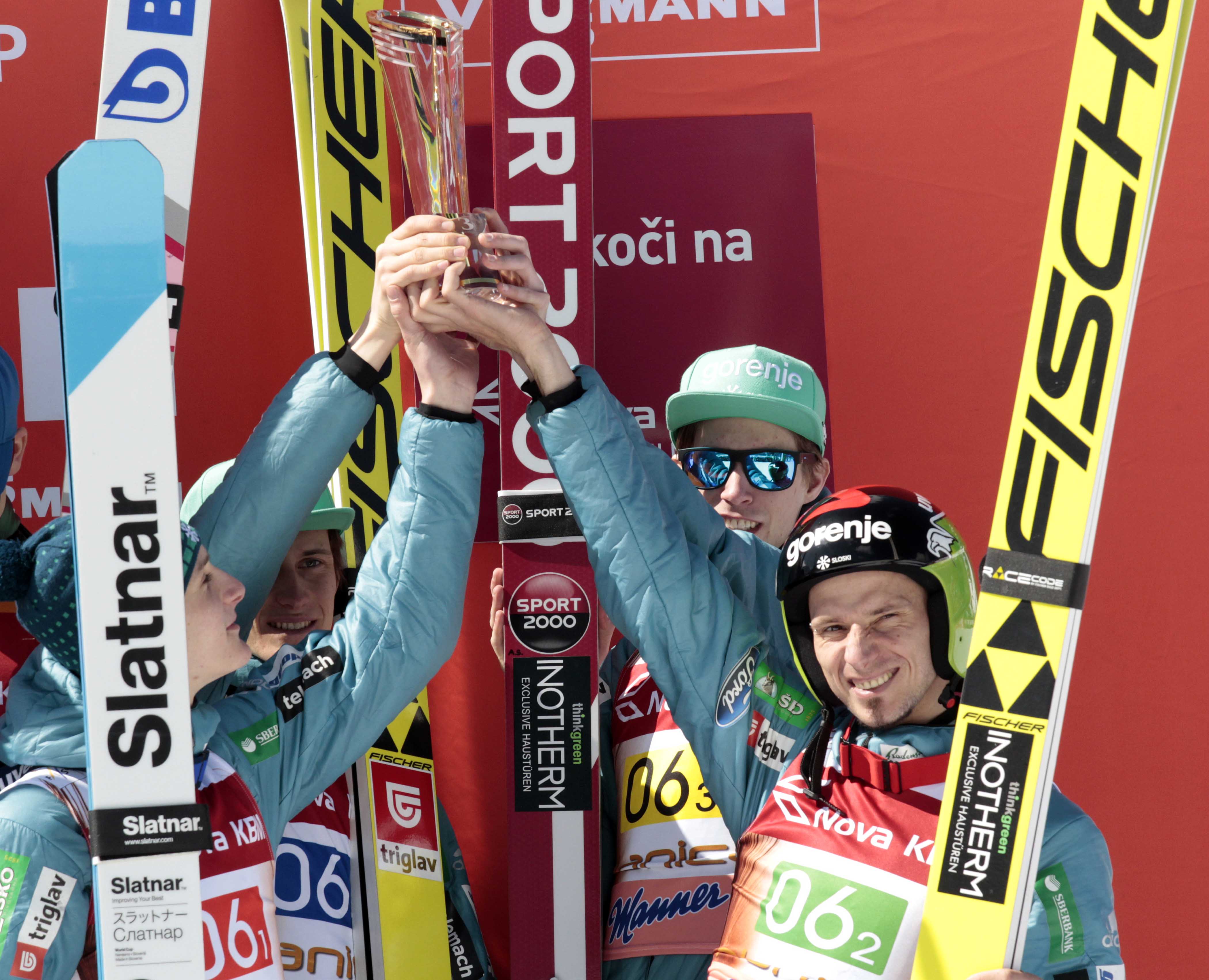 Težko priborjeno tretje mesto na ekipni tekmi. Foto: BoBo
Domen Prevc also showed two great jumps of 237 and 237.5 m. Anže Semenič managed 208 m and 213 m, while Peter Prevc, four-time winner here in Planica, landed at 215 and 217 m.
Ski Jumping World Cup will conclude tomorrow with the last individual event.
Andreas Stjernen, Norway
"It was a good day for us, we had some really good jumps. Our team loves Planica. It's good that it's over tomorrow, it's been a long season. It's been a hard fight in many competitions. I will enjoy the last day tomorrow."
Markus Eisenbichler, Germany
"My jumps in the competition were okay and I'm really happy with the second place. The Norwegians are jumping very, very good, but maybe we can beat them in Ski Flying next season. I like the hill here, it's always nice to come to Planica. Tomorrow I hope for good conditions and then we'll see what happens."
Robert Kranjec, Slovenia
"I'm very satisfied with this result and I'm happy that I could jump in front of a home crowd and finish on the podium. I had a bad season, but now I'm enjoying the time in Planica. I'm happy that I could end the season with nice flights here."