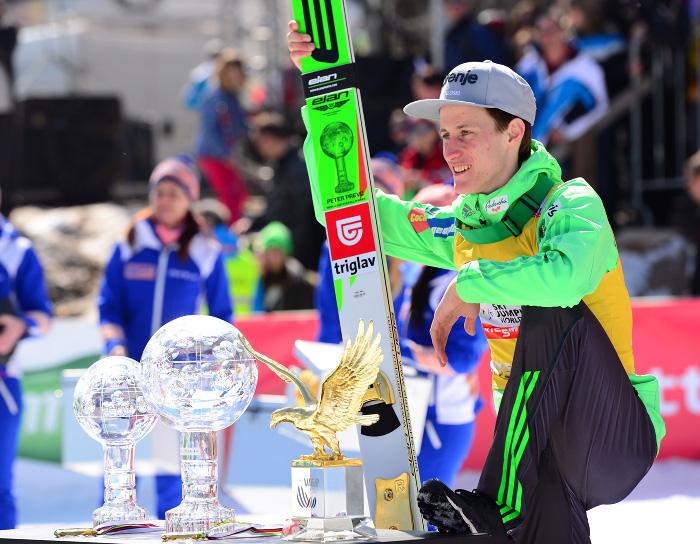 There were 33 000 spectators following last (41st) World Cup competition of the season. All together 110 000 spectators gathered in Planica across four days. The spectators could really be satisfied as there was not only perfect weather but also Slovene Eagles performed exceptionally again. Peter Prevc won his 15th individual competition out of 29 in this season. Peter ended up this season with 241.5 meters and 435 points. Another Slovene jumper Robert Kranjec ended second with 420.4 points. Johann Andre Forfang finished third with his new personal best of 245 meters which was also distance of the day.

Peter Prevc, 1st place and World Cup winner

Satisfaction and relief. This season is over now. The end was absolutely spectacular! I don't think anyone dares to think about repeating a season like this. This one was much more emotionally draining than the previous ones. There is a lot of obligations that come with success but that's to be expected. I'm happy that it's done now. I was expecting the crystal globe to be heavier. It is lighter than the golden eagle.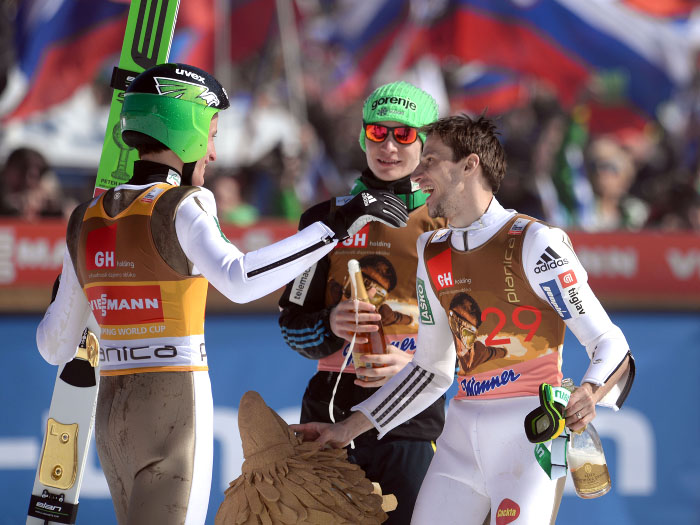 Robert Kranjec, 2nd place on Sunday's competition

I am really satisfied with this week's results. I achieved a lot of great results, I am happy with them but also relieved that the season is over now.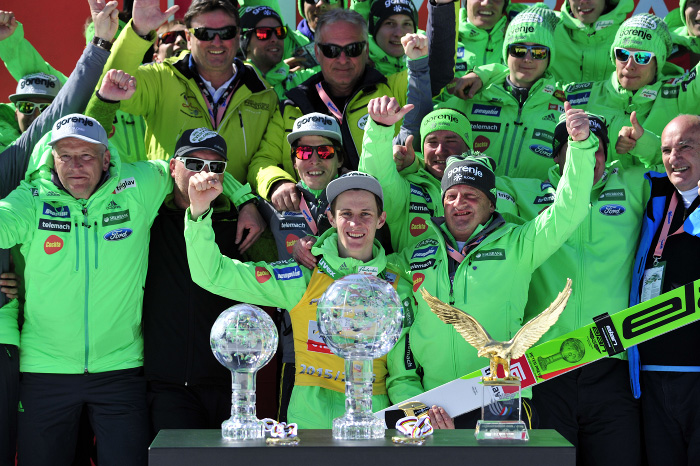 Peter also received two crystal globes - one for his World Cup win and another for the first place in ski flying standing. Norway won nations cup standing. Sara Takanashi from Japan received a globe for her win in the ladies World Cup standing whilst Maja Vtič received prize for the third place.

Sara Takanashi, winner of the World Cup

This globe is my favourite. Last season was really hard, especially emotionally. After the last season I trained even more and also harder to make it back to the top. I think I've learned a lot from the last season. I started well this season which was good for my self confidence which helped me when everything was not going as I wanted. I was really happy to receive the globe in front of such a crowd as you have here in Planica. I'm here for the first time. I really hope girls can fly in front of the crowd like this one day.

Maja Vtič, 3rd place in the overall standing

Of course I'm very happy with the season. A lot of things finally came together in order for me to be able to achieve this result. I collected a lot of podiums this season but the peak was of course win in front of the home crowd in Ljubno. The crowd there is always spectacular but it was something special to receive the award in front of the spectators in Planica. I'm going to focus on my studies first as I want to graduate during this break. For the next season - we, the girls, will continue to build our form on this season's results.
---
---