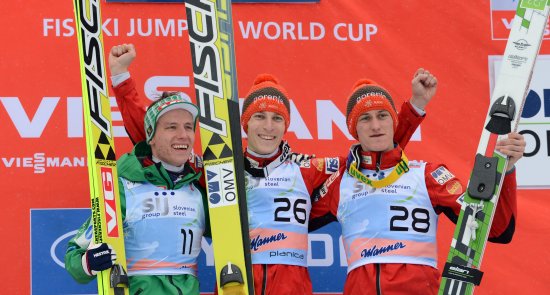 [foto: BOBO]
Planica was covered in snow today, waiting for the last - 35th competition of this season. Andraž Pograjc, Peter Prevc, Jurij Tepeš and Robert Kranjec represented the Slovenes today. The first round belonged to Jurij Tepeš who jumped 217,0m, behind him was his team mate Peter Prevc (218,0m).

PHOTOGALLERY >>>

The weather conditions did not improve much in the second round, in which Rune Velta attacked from his 6th place in the first round and landed at 217,5m. This was enough for 2nd place. He was also the key man today for the Norwegian team, they won the nations cup.

Jurij Tepeš was just too strong for competitors today and achieved his first victory. "This is a perfect way to end the season; there is no better feeling than wining at home. I was quietly hoping for a victory today and it all came together in the end. This was a long and hard season for me and I am very tired," said Jurij after the competition.  Around 9000 spectaotrs were very happy to see another Slovenian jumper on the podium - Peter Prevc took 3rd place with 212,5 meters.  "I am very satisfied with this weekend and I had a blast. I achieved something great with three podium result, unbelievable. The season couldn't have ended better for me," said Peter Prevc.

Winner of the world cup is Gregor Schlierenzauer (1620 points), Andres Bardal from Norway (999 points) is 2nd and Kamil Stoch from Poland (953) was 3rd. Kranjec was 6th overall with 802 points. In the nations cup Norway was victorious, followed closely by Austria with only 6 pts behind.