Poland's Kamil Stoch won the first of three Ski Flying events on the final weekend of the Ski Jumping season in Planica. He was already in the lead after the first round. The second and third place went to Johann Andre Forfang of Norway and Stefan Kraft of Austria. Norwegian is still leading the Planica 7 competition.
Stoch had jumps of 245 and 234 meters for a total of 455.9 points, only 3.7 ahead of Forfang. Norweigan's best effort was 242 meters, while birthday boy, Norway's Robert Johansson, equaled Stoch's distance in the first round but managed ''only'' 227.5 in the second and just missed out on the podium.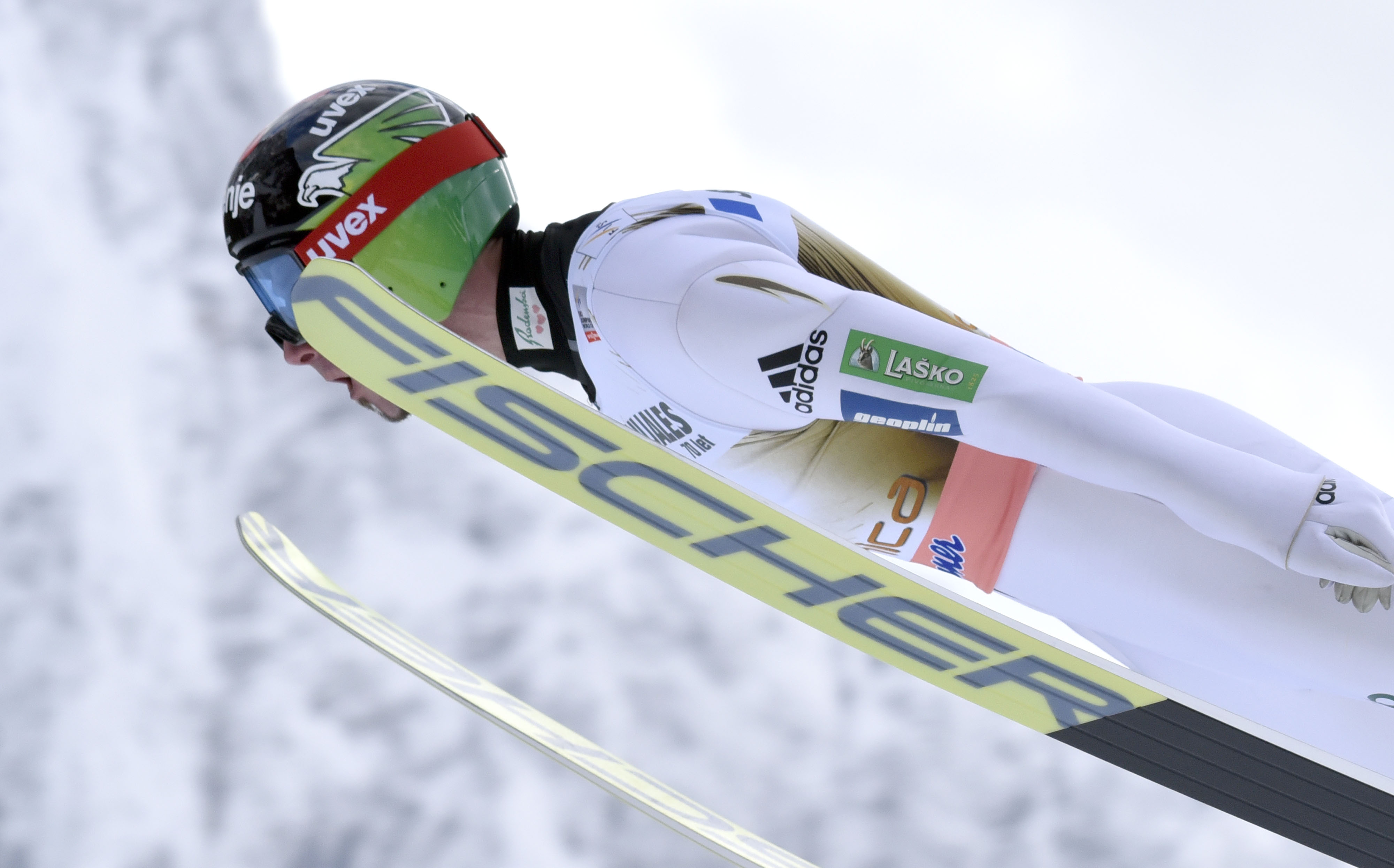 Slovenian local hero, Robert Kranjec. Foto: BoBo
The Slovenian jumpers performed quite well; of the ten who took part, no fewer than seven were in the final. Robert Kranjec was the best Slovenian in 10th place. He jumped 214.5 and 232.5 meters. Jurij Tepeš finished 12th with jumps of 225 and 221 m. Not far behind was Peter Prevc at 15th place (227,5/215 m). He was best Slovenian after first round (8th). Tomaž Naglič finished 17th (222,5/213 m), followed by Bor Pavlovčič (230,0/206 m). Žiga Jelar grabbed a few points at 24th place (210,5/218,5 m). Anže Lanišek, Cene Prevc and Jernej Damjan did not qualify for the second round, while Anže Semenič was disqualified after second jump and finished 30th.
Kamil Stoch, 1st place
"It was a really good day for me, but also for my teammates, especially for Dawid, who was ninth. It was really nice to fly. I like this hill, it's my favorite, and it's always nice to be here. It's great that I can jump here without a lot of pressure, I just came here with a smile on my face and with the goal to have some great flights and fly as far as possible."
Johann Andre Forfang, 2nd place
"It's one of my favorite hills, I achieved most of my podiums here. Most of my jumps are pretty good right now, but Kamil is in such a good shape that it's really hard to beat him. It's still early in the Planica 7, we have four more jumps left. My goal is to compete at a high level, like yesterday and today, and then we'll see."

Stefan Kraft, 3rd place
"I'm really satisfied with the first competition here. It's a lot of fun to be here and I think it's the world's best hill. The Olympics were disappointing for me and I wanted to end this season with better performances and I was able to achieve some great results. The last few days of the season are always exhausting, but we enjoy it."