The beautiful, sunny day in Planica has attracted around 11,.000 spectators to the qualifications for tomorrow's competition. Only 40 out of 66 competing ski jumpers have qualified. Even though we did not see the flights close to the world record mark, there were quite a few excellent and long jumps. The best ski jumper of the day was Martin Koch from Austria with two 222.5 meters long flights in the trial and qualification round (218 points).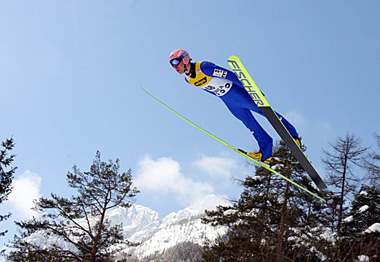 Martin Koch - 222.5 m (Foto: Z. Zivulovic / Bobo)
Andreas Widhoelzl from Austria was second with 217 meters and 215.4 points. The Slovenian ski jumper Robert Kranjec (215.1 points, 218 meters) was third and Thomas Morgenstern and Roar Ljoekelsoey were fourth with 208.8 points.
Among the 40 qualified, six Norvegian, five Slovenian, Austrian and Finnish, three German, Russian and Japanese, two Polish, French and Czech and one American, Slovak and Swiss ski jumper will take part in tomorrow's competition.