Today was a successful day for Slovenian jumpers; Peter Prevc took 2nd place in front of 11.000 spectators. He jumped 214,0m in the first try, which was good enough for 2nd place overall. Gregor Schlierenzauer was yet again unbeatable and finished the competition in the first place. Peter Prevc was definitely the hero of the fans today; his 2nd place was the first podium achievement of his career. "You cannot plan or force results like this, the competition is just too strong for that. You have to really concentrate before each jump and only after you land you actually see if it was good enough," said Peter after his personal best achievement in the world cup.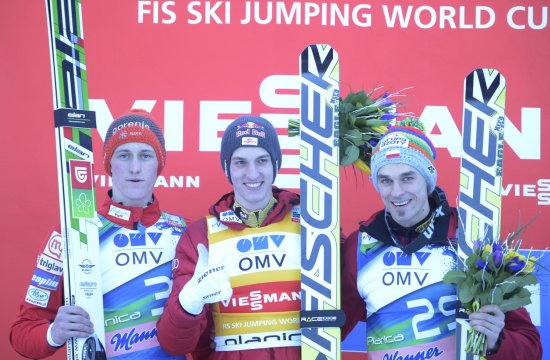 [foto: BOBO]
Photogallery >>>
As said, Schlierezauer took the first place (217,5; 213,5) and Piotr Zyla (212,5; 216,5) the third. Robert Kranjec finished 5th today, that meant that the small crystal globe for ski flying will be awarded to  Schlierezauer. "The feeling was just not right today, I am not disappointed with my overall results for this season, the goal was in sights but I just couldn't bring it all together in the end," said Robert.
Other Slovenian jumpers also performed well today. Jurij Tepeš (198,5; 223,5) finished after Kranjc. "I think we are a strong team, you can expect good results in the team competition tomorrow," said Tepeš after the competition. Andraž Pograjc ( 190,0; 198,5) was 17th, Matjaž Pungertar was 32nd (180,5) and Anže Semenič (174,0m) finished 39th.
"I would like to congratulate Peter for his performance today, also Robert, Jurij and Andraž did well today. It is clear that we have a strong team, that's why we aim for gold tomorrow," said the head coach Goran Janus today.