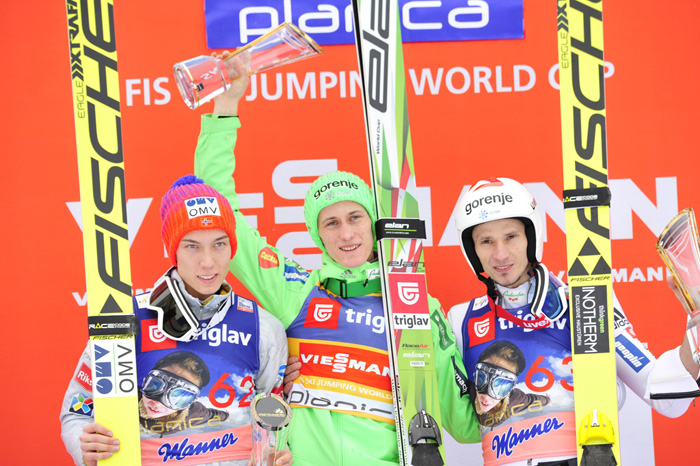 Best three on Thuresday [photo: BoBo]
In cloudy weather but fantastic atmosphere for which were mostly responsible children from the whole Slovenia who were here thanks to Zavarovalnica Triglav, Slovene eagles started off this Planica 2016 Fis World Cup Ski Jumping Final with a bang. Peter Prevc celebrated a record 14th win and 20th podium of the season. With the new 100 points he received for today's win he collected a record number of points - 2123. Peter now ranks as 11th jumper with most wins in the history and he shares this position with Andreas Goldberger. Today's winner who is also the overall winner won over Johann Andre Forfang for 7.5 point, Robert Kranjec was excellent third.  Kranjec also achieved distance of the day with 241.5 m. Noriaki Kasai ended up 6th on his 500th World Cup competition.

The qualification round for Friday's individual competition starts tomorrow at 14h.
Peter Prevc, 1st place

For me, every win is special. I have to say we had a great result today, especially with Robi finishing third. That was amazing. I don't remember that there would ever be 20 000 spectators in Planica on Thursday. When you are on top of the hill you can see the big crowd of spectators but I say to myself; calm down, concentrate, and jump. You can hear the roar again when you land. Ending today's day as we did is really fantastic.

Johann Andre Forfang, 2nd place

I am happy with the second place but I'm not happy with my jumps. I'm really happy with today's end result. I think Peter's win today was a revenge for my win in Neustadt. I hope I will improve my jumps in the days to come, I would like to achieve long distances and maybe even set new personal best.

Robert Kranjec, 3rd place

I am very happy with today's result. All three flights were on a really high level, especially the last one. I think I was a bit late in my first flight in competition. There was not much time for training and we had to prepare for the competition quickly. What can I say? Great! My form was getting better and better in the last month and a half and thus the results followed.
---
---