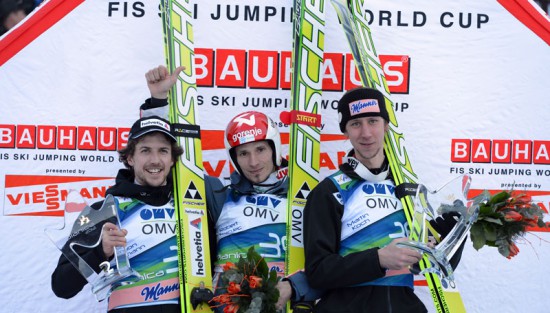 For the Slovenian fans, the festivities in Planica could not start better. Robert Kranjec was simply too strong for his rivals today. The 31-year old took the lead after the first jump with 227,5 meters, which ensured him a firm lead for the second jump. Second jump was a little shorter, but 215 meters was enough for Robert to take his fourth victory in his career. At the same time, his dream came true - he always wished for a Slovenian to stand on the highest podium: "I'm happy to have achieved this. It was not easy, everybody kept telling me that I will win and that I have to win. This created a lot of pressure, but I came through in the end, today was excellent!"
The Swiss Simon Ammann took the 2nd place on the podium (212,0; 222,0), followed by Martin Koch from Austria (225,0; 218,5).
Head coach Goran Janus made a statement after the race: "Robi was jumping excellent today! I predicted this victory and also made a bet, that if he wins, he can cut my hair. He is the king of ski-flying. Also Jurij Tepeš made a great first jump, but unfortunately he made a small technical mistake for the second jump, which is a shame. Too bad Jaka also did not qualify for the finals.
Robert Kranjec also took the lead overall in the special ski-flying ranking, he has a 35-point lead before the flying Japanese Daiki Ito, who came in 4th today.
Team  competition is scheduled for tomorrow.
PHOTO GALLERY >>>