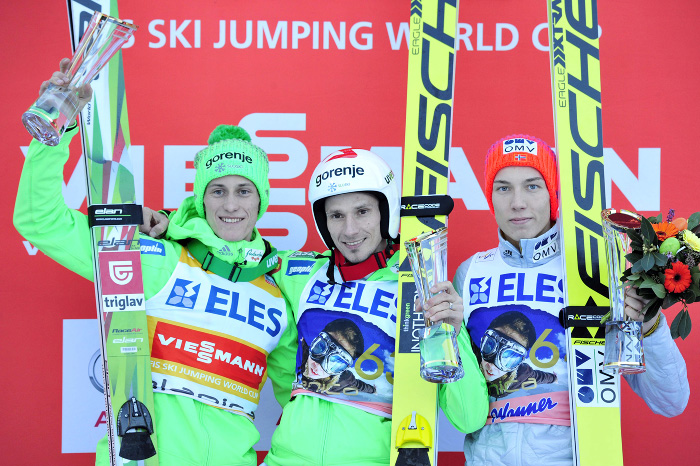 Robert Kranjec won the pre last individual World Cup competition with two exceptional jumps in front of the 22 500 spectators. He won ahead of yesterday's winner Peter Prevc for 7.1 point and with flights long 224.5 meters and 236 meters. Peter Prevc achieved today's distance of the day with the second jump of 242 meters. The third man on the podium was again Johann Andre Forfang who achieved distances of 223.5 and 233 meters, collecting 439.8 points.

Jurij Tepeš jumped 212.5 meters two times, collected 396 points and ended 14th, Anže Semenič jumped 211 and 206.5 meters, collected 379.3 points, and ended 27th. Saturday's  team competition starts tomorrow at 10 am.
Robert Kranjec, 1st place

Cameraman told me Peters distance before my jump. I usually don't know that prior to the jump and don't stress about it. This time I thought to myself - This is going to be hard. You are observing that green line and you try to get over it. This time I was not sure if I made it over or not so I nervously waited for the final result. Of course I was very happy in the end as it is not easy to win over Peter those days.

Today I managed to over jump the guys who were in front of me yesterday. I am currently second in the overall ski flying standing but I know the competitors are not far behind me. I have to rest and prepare well ahead of Sunday's competition. We have morning competition tomorrow and then I will have to perform well both times at the Sunday's event and then we will see where will I end up.

Peter Prevc, 2nd place

That's it (he won ski flying crystal globe and set a record with 21 podiums in one season). I'm going to pack now and head home. Legs should work fine for the last two competitions. I don't really feel tired right after the competition as there's still adrenaline running through my veins. But you start feeling it in the evening as your eyes get heavy.

Johann Andre Forfang, 3rd place

Same as yesterday, I am really happy with the end result and with new podium. I'm still not happy with my performances, I need to work on that. Though I have to be happy at the end of the day. I am not sure how to beat Slovene guys on their home ground. They really do deserve good results in front of the home crowd.
---
---