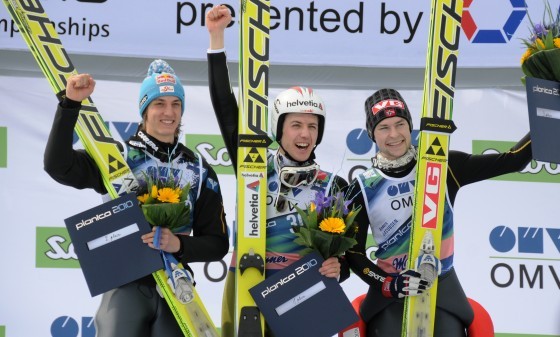 Planica - Swiss Simon Ammann is new skiflying world champion. Silver goes to Austria with Gregor Schlierenzauer and bonze goes to Norway with Anders Jacobsen. Slovene hero, Robi Kranjec is on fifth place.
Double olympic chapion from Whistler won ahead of 35.000 enthusiastic fans in Planica. Silver won last skiflying wolrdchampion, Gregor Schlierenzauer with two great flights today. Anders Jacobsen took the bronze from Adam Malysz in the last jump with 227.5 meters long flight. Ammann also took the greatest flight today with 236.5 meters and finished his season with personal best.
Slovene hero and this years winner of special world cup standing in skiflying, Robi Kranjec was fifth.