Second day of the competition in Planica wasn't that sunny as the day before, but the athletes still had great conditions for their jumps and running. After the first part of the competition the first to places were held by the same athletes as yesterday. Tobias Haug (GER) made a great jump and landed at weekends longest 135 meters. Pavel Churany (CZE) was second with 132.5 meters and Sindre Ure Søtvik the third (123.7).
GALLERY >>>
Second half of the competition started one hour sooner than the day before, while the time gaps were a bit larger. In light snowfall Haug started with 21 second advantage over the Czech, while the Norwegian followed six second after that. As was with the jumping, we saw another repeat of the podium visitors, with a slight difference.
Ole Martin Storlien once again beat all the rivals and after fifth place in the first half of the day crossed the finish line first. Churavy had to be satisfied with second place with a 1.7 second lag once again, while the home crowd cheered even more for the athlete that finished third. That was Slovenian Mitja Oranič whose position after the jump was 17th. With the fastest time (25:16.0) in cross-country he finished third with a 2.1 gap.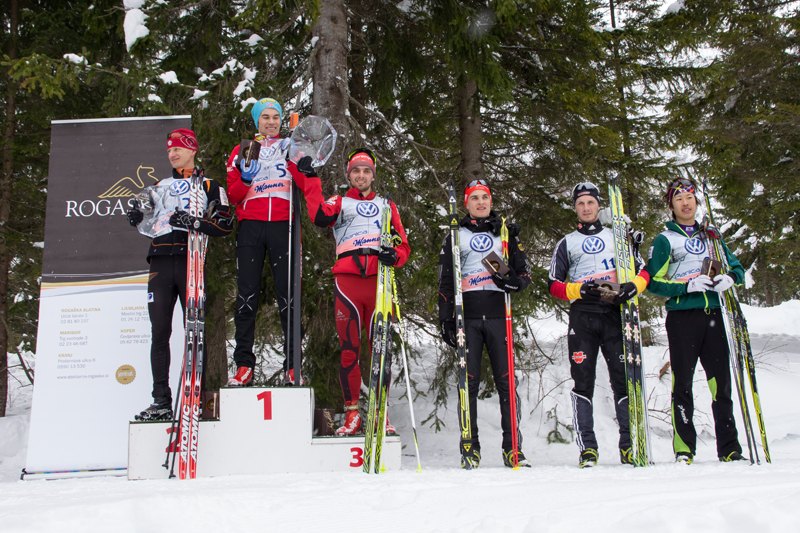 While standing on the highest step of the podium Ole Martin said:
"The whole weekend was perfect, I am starting to love Planica. Jumping hill is perfect and it suits me good. The running course is also great. The weather conditions were hard so the race was really tough but in the end I got the second victory,"
Churavy said:
"I am satisfied with the second place, this was a super test for Val di Fiemme."
Oranič added:
"I like it when it snows, but we had the ski's tested only one hour before the race. I hoped they were good and they were, so thanks to the service team. I feel great here."
Andreas Günter (GER) remains in lead of the overall COC standing with 478 points, Wilfried Cailleau (FRA) advanced to second place with 312, while Johannes Firn (GER) now holds the third place with 308 points. Next COC competition will be hosted by Höydalsmo, Norway.