Hello, sports fans. We invite you once again to browse through the Planica 2017 Newsletter. Amidst intensive preparations for new competitions in the FIS Ski Jumping World Cup, we are already looking ahead and trying to ensure a successful campaign for making Planica the host of the Nordic World Ski Championships. The selected candidate will be presented on 31 May, but there is still a lot to be done until then. Nonetheless, we are looking forward to it, convinced that Planica has what it takes to win.
We talked to Franci Petek, an extraordinary ski jumper and ambassador for Planica's candidacy, who says that he would love to try out the renovated "Bloudek Giant" ski jump. It is currently being reconstructed, so we asked Jelko Gros about the progress of the work. He believes that the Bloudek's heritage combined with one of the new adjacent structures will be given a very special place among the ski jumping facilities in the world. But before that, read about the World Snow Day, an event that attracted many kids to Planica. It has been a busy month!
PLANICA 2017 AMBASSADOR – FRANCI PETEK
For this issue of the newsletter we talked to Franci Petek, who is an ambassador for Planica's candidacy together with Petra Majdič. He holds a PhD in Geography, but before that high academic achievement, he was a top athlete, loved by many ski jumping fans -  he was after all the world champion in Predazzo in 1991. Franci Petek is still closely involved in ski jumping and sports in general, so it is a great honour to have him and Petra Majdič representing Planica in the world.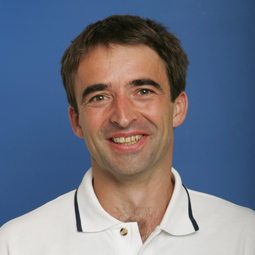 What adjectives would you use to describe Planica?
I would definitely use "unique". Not just in terms of jumping, and not just in Slovenia;  Planica has a unique potential for Nordic sports in general and at a world scale. Given its unique natural features and unique organisation of the biggest sports event in Slovenia, this valley could also build a unique state-of-the-art sports centre. The prospects of that coming true are growing as the construction works progress.
In your opinion, what would Planica's successful candidacy mean for Slovenia?
It would mean a great opportunity for promotion. As for the future Nordic sports centre, we feel that the programmes, devised in the existing vision, could go even further. If Planica succeeds, Slovenia could develop one of the leading sports centres in Europe.
How do you personally feel about being an ambassador?
Above all, I am very honoured. I have no doubt that Planica is the best candidate and I am fully committed to all that lies ahead. I always enjoy telling people about the plans for Planica 2017. And naturally, I hope that contents will prevail, when the FIS is making their decision.
What do you think makes Planica better than the other candidates?
All the other candidates have already hosted a Nordic world championship. Apart from the Ski Flying World Championships, which is rather specific and different, this would be the first championship in Slovenia ever. Athletes will be greeted with state-of-the-art facilities and the corresponding infrastructure. Not to mention the direct impact for the development of Nordic sports in the region and beyond. This candidacy is about so much more than merely filling up tourist capacities for a week. Besides, we are definitely the most organised and have the best weather conditions and the most fervent fans.
How could the future Nordic sports centre contribute to the development of young athletes and of its surroundings?
To focus on ski jumping and Nordic combined, I'd say this centre will bring a huge relief. Slovenian athletes will be able to profit from this facility instead of training abroad. Currently the only top-quality ski jump for training throughout the entire year is in Kranj. With the planned series of ski jumps that can be used all year (and especially the Olympic twins, of course) our young ski jumpers will finally be able to prepare at home to reach for the world top. The fact is that microclimate in the valley usually enables the organisers to produce artificial snow as early as in November, and the snow sticks until March, which means it's there for whole five months. We're not talking about Scandinavia.  Slovenian athletes could now finally establish their leading place in the world ski jumping elite. Many people still cannot imagine what this vision can amount to. For example, it will also boost sport and economy of the local community.
Does the valley under the Ponce mountain chain have any specific geographical characteristics?
I already mentioned some of the valley's geographical features: its microclimate with long winters and mild summers, the protection from wind, the amazing scenery provided by the surrounding hills; it is also the entry into the national park, and, although it is amidst mountains, the road from Ljubljana into the valley does not go over a single hill. The glacial valley is shaped in a distinct U form and it does indeed have unique geographical features.
How many kilometres have you done cross-country skiing?
Well, you got me there. I don't count the kilometres, though I've surely done quite a lot. What I particularly enjoy is help children make it through their first few metres in cross-country skiing. I have learned that children who start off as cross-country skiers have no problem later to explore other sports that involve skis.
Would you like to try out the new "Bloudek Giant" ski jump?
I would love to! I am really happy for all the young ski jumpers who will have the chance to train on the new ski jumps in Planica. It has been a dream for many generations.
WORLD SNOW DAY IN PLANICA
Planica, the central activity site for the World Snow Day project in Slovenia, hosted a genuine snow spectacle on Sunday, 22 January, enjoyed by many kids.
The event in the sunny valley began at 9 a.m . Hundreds of children joined Franci Petek in opening the Snow Land. Numerous snow activities were organised, including of course ski jumping and cross-country skiing.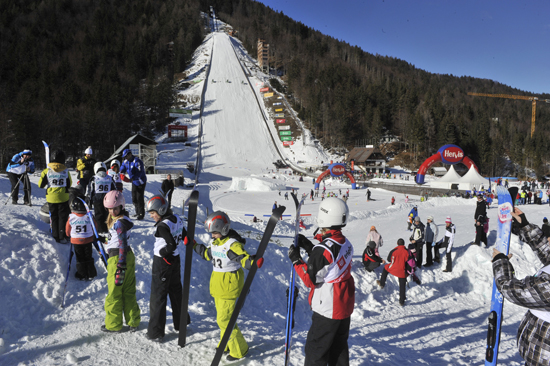 The Planica story was a huge success. Kids tried out real beginners' ski jumping skis with Franci Petek until 3 p.m. The skis for this special event were provided by the world renowned company Elan. At the foot of the Giant, kids experienced cross-country skiing like Petra Majdič, the winner of the small crystal globe and bronze Olympic medal in Vancouver, Canada; she is also the ambassador for Planica's candidacy to host the 2017 Nordic sports world championship.
Both Nordic disciplines were demonstrated by a team of experts, animators and teachers of cross-country skiing and trainers of ski jumping from SK Triglav Kranj.
Snow Land offered many opportunities for the children to enjoy and explore. They competed in a special match of ice hockey, explored and tried to find their way out of a snow labyrinth and the fastest among them tried out the tubing line and sleighed in a specially prepared polygon. The most creative children built several snow sculptures. Of course, the youngest children were also taken care of. A children's corner was set up for them, and they also got to meet several well known children's characters.
But that was not the end of the Planica story; there was much more to the World Snow Day project than that. Activities were held until 16 February. Planica was visited by more than 1000 elementary school children, who experienced, what could be described as, a slightly atypical sports day. We also invited Slovenian Nordic sports clubs to join us and present the children the theoretical aspects of both Nordic disciplines and their activities. Coaches from Nordijsko društvo Rateče, SK Triglav Kranj, TSK Jub Dol pri Ljubljani, SSK Costella Ilirija and SD Dolomiti came to Planica.
Children from various schools and kindergartens as well as adults accompanying them were excited, happy, joyful and eager to come back.
Franci Petek:
"Well done and thank you! You genuinely succeeded in making this a memorable day for the children and adults alike!"
An elementary school teacher said:
"Sports days are an important part of our school's curriculum, so we are very proud to be among the first to explore and enjoy what the Snow Land has to offer. A big Thank You to the Ski Association of Slovenia and to all the animators and coaches who presented the main two Nordic disciplines to our children in a really amusing and interesting way."
Pupils:
Marko:
"This was the best sports day ever!"
Špela:
"I loved ski jumping the most."
Alen:
"Snow Land rules!"
Maja:
"I didn't fall during cross-country skiing – not even once! Hurray!"
Seeing all those happy children and parents and hearing their feedback has encouraged us to organise these activities again in 2013.
JELKO GROS ON THE RENOVATION IN PLANICA
One of the most famous facilities in Planica is currently being rebuilt. The renovation of the "Bloudek Giant" ski jump and the adjacent facilities is one of the first and most important steps towards building the new Nordic sports centre. We talked to Jelko Gros, Director of Slovenia's Planica Sports Institute, about the works currently underway on the Bloudek Giant, which has a remarkable history.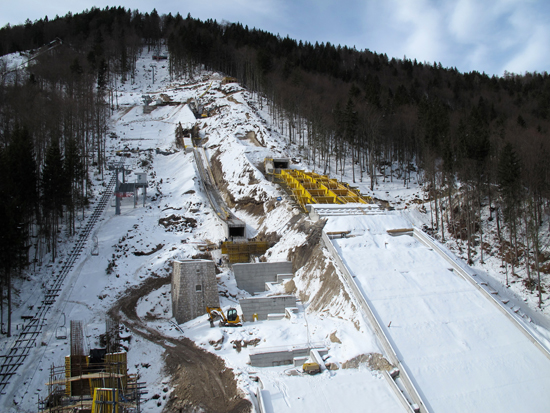 "We expect the ski jump to be in use again in early July. People coming to the World Cup competitions in March will be able to see that the renovation works are coming to an end,"
said Jelko Gros, adding details about the next step towards the completion of the new centre:
"We are just before invitation for tender for youth and children's ski jump."
Planica has indeed seen a major transformation. The new 85-, 65-, 45-, 30- and 15-metre ski jumping facilities will add certain charm to Planica's appearance, which many are bound to love.
Jelko Gros is also a member of the working group dealing with Planica's candidacy. Here's what he had to say about his role in the construction of the new centre:
"My priority is to make the centre functional for day-to-day use, i.e. great for training, but at the same time also a venue suitable for top sporting events."
He also let us in a little secret, which will further enhance Bloudek's heritage:
"This is something that no other ski jumping facility in the world has. We joined forces with RTV Slovenija in designing a TV tower, which will enable a much better and nicer view of ski jumpers to all the ski jumping fans at home."
Finally, Jelko Gros confided in us why he believed that Planica should host the big event in 2017:
"All the other candidates already had the opportunity to host the competition. Planica is one of the giants in Nordic ski sports, so it's about time it gets its chance to host a world championship too."