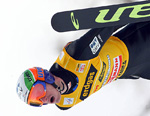 Around 24,.000 spectators saw the 27-year-old Czech ski jumper Jakub Janda securing his first place of the ski jumping World Cup 2005/2006 with the total of 1151 points, before the tomorrow\'s final competition of the season. His biggest rival Janne Ahonen collected 998 points, and being 153 points behind, he can not win the world cup title any more.
The big winner of today's competition was the Norvegian ski jumper Bjoern Einar Romoeren who jumped 224 meters in both series and collected 450.1 points. The runner-up was his fellow countryman Roar Ljoekelsoey (215.5 and 220.5 meters). Martin Koch from Austria (219.5 and 218 meters) clinched the third place.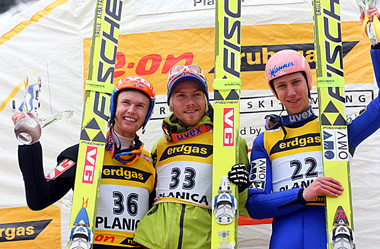 Andreas Kuettel was fourth with 426.9 points (212.5 and 222 meters), Tommy Ingebrigtsen from Norway was fifth with 425.4 points (215 and 217 meters), Adam Malysz from Poland (216.5 and 211.5 meters) and Janne Happonen from Finland (211.5 and 216.5 meters) shared the sixth place with 423.1 points, Robert Kranjec from Slovenia was eight with 420.2 points (219.5 and 206.5 meters), Thomas Morgenstern from Austria was ninth (215.5 and 209 meters) and Andreas Widhoelzl from Austria tenth (204.5 and 217.5 meters).
Foto: Žiga Živulovič / Bobo.
More: