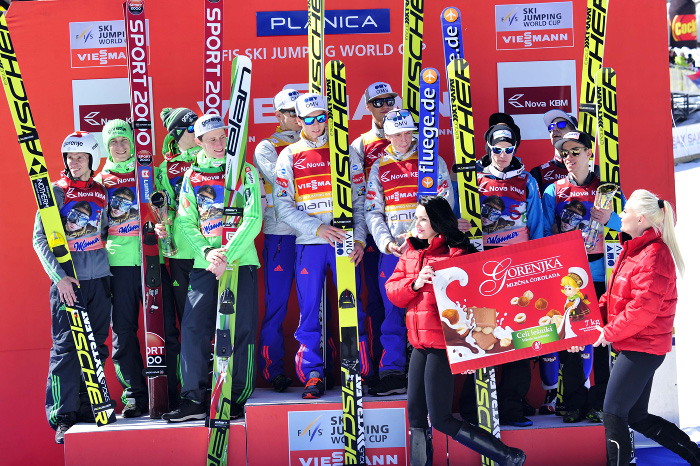 Norway won the last team event of the season in a beautiful weather and in front of the spectacular crowd of 32 500 spectators. The Norwegian team consisted of Daniel Andre Tande, Andreas Fannemel, Kenneth Gangnes and Johann Andre Forfang. Peter Prevc jumped 246 meters in the final round and together with Jurij Tepeš, Anže Semenič and Robert Kranjec lead Slovenia to the final second place. Stefan Kraft, Manuel Poppinger, Manuel Fettner and Michael Hayböck were part of the Austrian team which ended up on the third place. Austria was behind Slovenia for 0.1 point.

Tomorrow is going to be the last competition of the season after which Peter Prevc will receive the big crystal globe for his overall World Cup win. Peter will also collect the ski flying globe for the third time in a row. Slovenia will tomorrow fend the second place in the Nations Cup standing where they already have a substantial advantage ahead of Germany on the third place. The competition will start at 10 am.

Daniel Andre Tande, Norway, 1st place

We are very happy with the win, our jumps were good, but they weren't perfect. In the end I was not worried that we wouldn't be able to keep the first place. I have to say it is a great pleasure to jump in front of such a huge crowd. The atmosphere is really excellent, the hill is very beautiful and we really enjoy being here.

Anže Semenič, Slovenia, 2nd place

I am very happy with my jumps today and I can't really complain. I'm happy with the second place which is a great result. I don't remember that there would ever be such small differences between the teams at the team events, especially not on the flying hills. Maybe Robi remembers another one as he has been in the World Cup a bit longer than me. I'm really satisfied with the end result we achieved.

Manuel Poppinger, Austria, 3rd place

Even though we just missed out on the second place we are still very happy with the final result. We showed good performances and we deserved this place. There is always place for improvement but we have to be happy with today's results and enjoy the rest of the season finale.
---
---