Rok Tarman was the first one to fly in Planica for the fourth year in a row, this time 215 meters in his first jump. The last forejumper who opened ski flying hill and managed to jump over 200 meters was Matevž Šparovec, who in the year 2009 jumped 209 meters. "Feeling are great every year. The hill is top, the wind is good and we can expect long jumps. As a forejumper you always need to have some respect, but it gets easier every year. But this is never going to be a simple task," has after his first jump said Rok Tarman.
The longest jump of the day had been made by a member of Slovenian junior team, Mark Hafnar, who landed at 236 meters in the second round. "The conditions were perfect, nice head wind. They allowed longs jumps, just perfect! I don't think that the hill could be better prepared, it really is perfect! " was radiant Hafnar.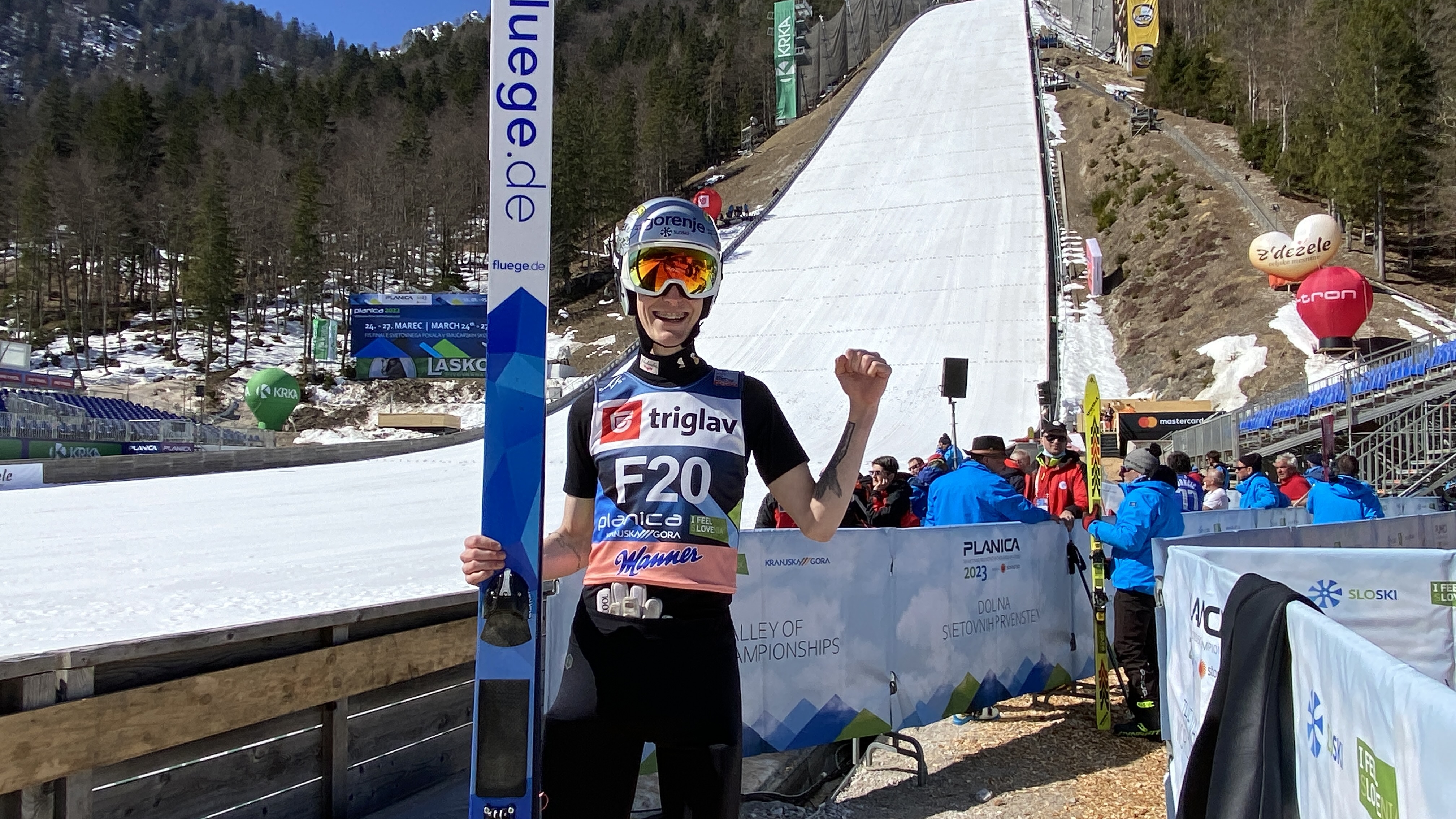 All together 1500 spectators got to watch 26 flights over magical length of 200 meters.
Robert Hrgota, head coach of Slovenian team: We want to continue in the same rhythm as we did since the Olympics. If we managed to step on the podium abroad, then it is appropriate to do the same at our home hill and create a nice Planica. Ever since covid started and first time that Planica was cancelled everyone was dreaming that we could return to normal. Organizer promised us a very nice atmosphere in the outrun of the hill. I think that in these hard times that we currently live in people need to forget their worries, have fun and pull away from reality for the weekend. And where better to do that than in Planica.
Anže Lanišek: My expectations are to enjoy in every single jump, to take advantage of the last weekend, relax and fly far. My whole family and also some friends are coming so it's going to be fun.
Cene Prevc: after the best weekend in my life in Vikersund, the worst weekend in this season happened. Looking back, I did a lot of mistakes in Oberstdorf. The ski flying hill can be nice if you jump well. I hope to turn things around this weekend.
Timi Zajc: I would like to repeat my victory from last week but if that doesn't happen, it wouldn't be the end of the world. It's nice that things are going well and that I'm enjoying a lot. I hope it will be like that this weekend.
Lovro Kos: I don't want to predict any result because I don't think that I'm currently on that level. I just want to enjoy and that's it. But it will be nice to see so many people in Planica again.
Peter Prevc: From home competitions I expect jumping far and I want to stay focused until Sunday. Mostly I would like to make some great memories again because there are going to be fans supporting us again. Everyone from my family will be supporting us as well.
Results
| | | | | |
| --- | --- | --- | --- | --- |
| 1 | Rok Tarman | ND Rateče Planica | 215 | 211 |
| 2 | Lojze Petek | ND Rateče Planica | 163 | 180 |
| 3 | Matic Hladnik | ND Rateče Planica | 209 | 211 |
| 4 | Jan Nemeček | ND Rateče Planica | 180 | 171 |
| 5 | Matija Košir | ND Rateče Planica | 162 | 168 |
| 6 | Staš Šantelj | SD Domoliti | 121 | 158 |
| 7 | Gašper Brecl | SSK Mislinja | 189 | 208 |
| 8 | Urh Rošar | SSK Mislinja | 178 | 185 |
| 9 | Juš Sušnik | NSK Tržič FMG | 125 | 134 |
| 10 | Urban Sušnik | NSK Tržič FMG | 137 | 161 |
| 12 | Matija Prosenc | SK Zagorje | 159 | 153 |
| 13 | Ernest Prišlič | SK Zagorje | 216 | 230.5 |
| 14 | Žak Hriberšek | SSK Velenje | 170 | 180 |
| 15 | Vid Vrhovnik | SSK Ljubno BTC | 179 | 185.5 |
| 16 | Aljaž Osterc | SSK Velenje | 210 | 212 |
| 17 | Jošt Sušnik | SK Triglav Kranj | 191 | 197 |
| 18 | Nejc Toporiš | SK Triglav Kranj | 203 | 197 |
| 19 | Urban Remic | SK Triglav Kranj | 172 | 161 |
| 20 | Mark Hafnar | SK Triglav Kranj | 220 | 236 |
| 21 | Rok Oblak | SSK Norica Žiri | 218 | 202 |
| 22 | Anže Urbančič | SSK Norica Žiri | 127 | / |
| 23 | Marcel Stržinar | SSK Norica Žiri | 229.5 | 214 |
| 24 | Marcel Rep | SSD Stol Žirovnica | 216 | 216 |
| 26 | Matija Štemberger | SSK Ilirija | 185 | 165 |
| 27 | Timotej Jeglič | SSK Ilirija | 80* | / |
| 28 | Matevž Samec | SSK Ljubno BTC | 173 | / |
| 29 | Stefan Rainer | SV Schwarzach | 209 | 221 |
| 30 | Peter Resinger | SV Schwarzach | 223.5 | 218 |
| 31 | Markus Rupitsch | KSG Klagenfurt-Kaernten | 205 | 203 |
| 32 | Pius Paschke | WSV Kiefersfelden | 229 | 234 |