Nice weather and excellent conditions welcomed athletes on the first day of COC competition in Planica. The event started at 10 AM with the battle on the Bloudek's giant (HS 139). The first place after the first half of the race belonged to Tobias Haug (GER). With the distance of 133 meters he received 127.5 points. Pavel Churavy (CZE) held the runner-up position with the longest jump of the day of 134 meters (124 points), while Tobias Simon (GER) was the third (129.5, 120.7). Overall cup leader Andreas Günter (GER) held 17thplace. He landed at 123.5 meters and received 110.2 points.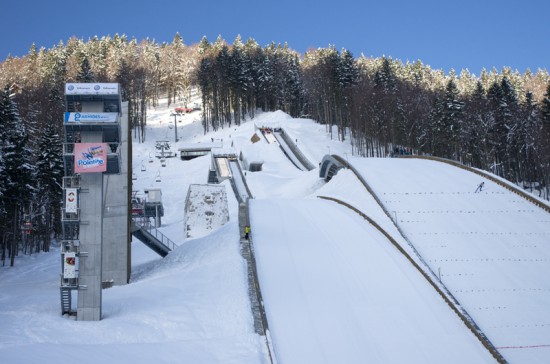 GALLERY >>>
Cross-country race started at 2 PM with higher temperatures after the sun shone into the valley under Ponce. Haug started with 14 second advantage over Churavy, Simon followed 13 second latter, while the other athletes were more than half a minute behind the leading German.
After an exciting cross-country race the first man to cross the finish line was Norwegian Ole Martin Storlien. With running time 25:28.1 he ranked third and beat his rival Churavy with a 2.3 second advantage. Third place went to German Firn, while Haug finished in fourth place. Frenchman Hugo Buffard was the fastest on skies with time 25:05.8.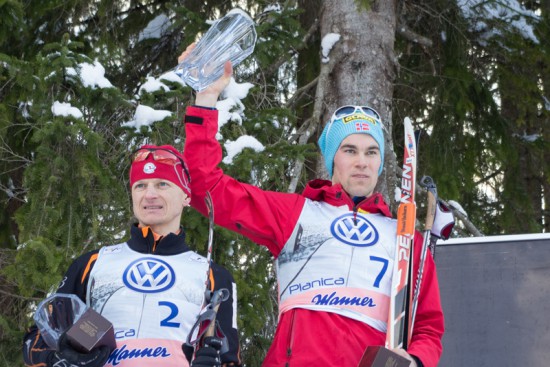 After the competition the winner said:
"It was a good race and the conditions were perfect. It was very hard at the end but I got on the podium so I'm very happy. I expected that the cross country would be this hard. I hope that we'll see another good competition tomorrow."
The runner-up Churavy was short with his answer:
"Running was great and the jumping was great, I was successful."
The last but not least Firn said:
"I am very happy about the result. For tomorrow I hope that jumping will be better and cross-country in the same level as today."
After today's competition and ninth place Andreas Günter (GER) remains in overall standings lead with 458 points, Todd Lodwick (USA) is second (300) and Shun Yamamoto who finished 35th third (295). Tomorrow Planica will host one more race, after that, athletes that compete in COC will travel to Höydalsmo, Norway.