There were lots of people heading towards Planica in the morning, everybody wanted to be there to see the masters of ski jumping. Of course the majority of the fans came to see the Slovenian jumpers to achieve great results. Judging by the trial round, we could already see that today's conditions were great for all 9 teams competing today.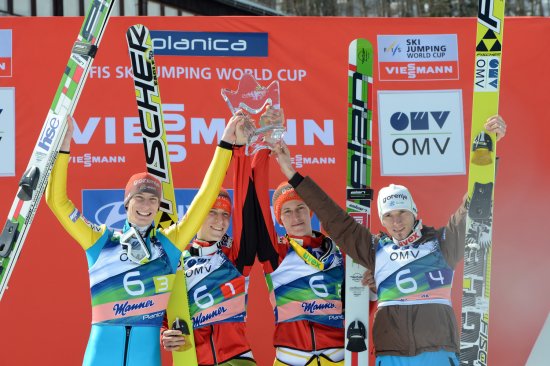 Photo: Bobo
Today's competition went by without any technical difficulties; the majority of the jumpers had good head wind conditions which some of the jumpers took to their advantage. The final result made 24.000 fans clearly satisfied, while Jurij Tepeš, Peter Prevc, Andraž Pograjc and Robert Kranjec were just to strong of a team today and achieved their sixth victory in team competition of the season.
The Norwegian team (Rune Velta, Kim Rene  Elverum Sorsell, Anders Bardal, Andreas Stjernen) took the 2nd place, followed by the Austrians (Wolfgang Loitzl, Stefan Kraft, Martin Koch, Gregor Schlierenzauer) on 3rd.
Tomorrow is the last competition of the season, the trial round starts at 9:00 am, followed by first round at 10:00.
Results >>>
Photo Gallery >>>