Many ski flying fans made their way to Planica in the early hours of Saturday morning with the purpose to see the best ski flyers of the world in action. Many of them were hoping for a good performance of the Slovene team. Trial round, where 8 registered teams tested the hill, has announced extremely good flying conditions.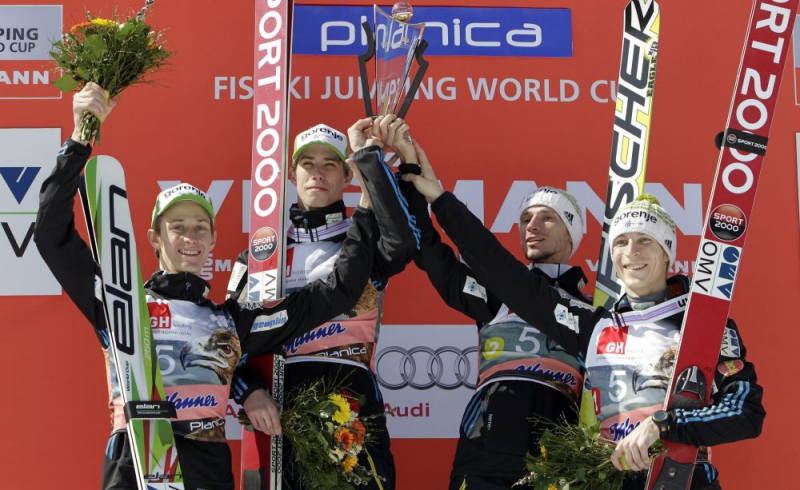 PHOTO GALLERY >>>

Strong wind caused several delays in the first round. In the changing weather conditions some flyers performed better than the others. Jury of the competition decided that the competition will only consist of one round and thus the results of the first round became official final results. Final total score has shown that Jurij Tepeš, Anže Semenič, Robert Kranjec and Peter Prevc were better than the competition and thus secured fifth team win of the season. The best of the four was Tepeš (237.0 m) who lead Slovenia to the first place after the first leg. ″Every competition is something special and I could get used to standing on the podium. Since I started at the beginning of the competition, I did not have any issues with the breaks. Everything worked out for me. I had good wind. Tomorrow is new competition, we start from zero and I will have to repeat 2 good jumps." Those were Tepeš's words after the competition.

The rest of the home team continued with good performances that resulted in celebration of Slovene win among the large crowd of spectators. It is important to point out successful debut team performance of 21 year old Anže Semenič. "I am feeling great. I have been performing well throughout the whole week. I only concentrated on my task today. I am really pleased with the number of spectators gathered. It was really great to be listening to the national anthem on the podium." Said Semenič (216.0 m).

The return to the best made Robert Kranjec who flew all the way to 225.0 m. His thoughts after the jump were: "Winning on home ground in front of the large crowd of supporters is always the best. I would have liked to jump again but when you are leading after the first round and then find out that the final round has been cancelled, you do not complain against it. I know my performances are not perfect yet but they are getting better and better."

Prevc was the last man on Slovene team to make it down the hill. His 218.5 m were more than enough to secure second win for Slovenia in team events here in Planica. "The hill is really beautiful so I am a bit sad that we did not get the opportunity to perform again. I joined the fans at singing of the national anthem whilst standing on the podium. I will try to calm down and rest before Sunday's event." Said Prevc.